The only sign most people have that they're passing the headquarters of the world's largest spy agency is that their GPS
stops working.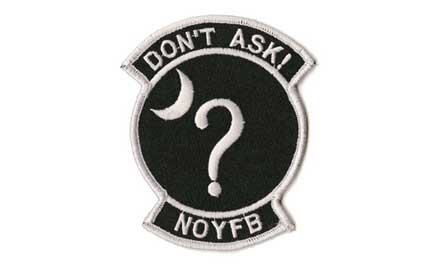 It's with such evocative details that the Washington Post paints its portrait of Top Secret America, an "alternative geography of the United States" that took more than two years of research to assemble from public records. Parts of the project are so crowded with Byzantine bureaucracies, mysterious devices and vast sums of unaccounted money that they read like mediaeval travellers' tales; others focus on the quotidian, from casino-themed networking nights for employees with Top Secret clearance to the Director of Counterterrorism's battle to read all his email on the same computer.
It's perhaps appropriate that this project has, like the maneuvering rival-allies in the cozily named US Intelligence Community, its own double across disciplinary lines — Trevor Paglen has spent eight years exploring and documenting the "black world" in a series of books and exhibitions (the image above is from his Symbology project on the insignia of classified military units). But whereas the Post is hungry for facts, to the point that its investigation ironically suffers from the same information overload it diagnoses in the intelligence world, Paglen's lens is always focussed on the point where certainty ends and secrecy begins: the holes in the map that modernity promised to sew shut, and that its left hand is now busily unpicking as quickly as its right can close them.
If we had thought our networks, processors and databases would push back the frontiers of ignorance, we were right; what we couldn't have known was that the territory would be populated by chimeras: that which we know but can't reveal, that which we know but can't find, and that which we know but can't understand.